Hard Red Winter Wheat Cash Price
Ordinary Protein
11%
12%
-11
Tue PM
-11
Tue PM
-11
Tue PM
South Central MT
4.99 - 5.14
5.19 - 5.34
5.31 - 5.46
Golden Triangle
4.92 - 5.16
5.12 - 5.29

5.27 - 5.42
Northeast MT
4.58 - 4.98
4.68 - 5.10
4.73 - 5.23
FOB Portland
+17
6.66
Wed PM
+17
6.86
Wed PM
+17
7.01
Wed PM
Dark Northern Spring Wheat Cash Prices
13% Protein
14%
15%
-6 to 13
Tue PM
-6 to 13
Tue PM
-6 to 13
Tue PM
South Central
MT
5.26 - 5.42
5.58 - 5.74
5.74 - 5.90
Golden Triangle
5.36 - 5.45
5.60 - 5.82
5.68 - 6.02
Northeast MT
5.21 - 5.61
5.37 - 5.77
5.45 - 5.96
FOB Portland
+9
6.97 - 7.05
Wed PM
+9
7.21
Wed PM
+9
7.29 - 7.33
Wed PM
Wheat / Durum / Barley Cash Prices
Soft White Wheat
Hard Amber Durum
Feed Barley
Steady
Wed PM
Steady
Tue PM
Steady to -1.50
Tue PM
South Central MT
Golden Triangle
5.50 - 7.00
Northeast MT
5.90 - 6.75
FOB Portland
7.50 - 7.65
*priced on cwt basis
Wyoming / Nebraska / Colorado Cash Prices
Hard Red Winter Wheat
Yellow Corn
Sorghum
-11
Tue PM
-7
Tue PM
-7
Tue PM
S.E. WYO - S.W. NE
4.98
5.31 - 5.39
North Central COLO
5.38 - 5.66
5.84 - 6.09
Northwest NE
4.91 - 5.18
5.20 - 5.59
5.79 - 6.84
| | | | | | |
| --- | --- | --- | --- | --- | --- |
| Commodity | Last | Change | Open | High | Low |
| HARD RED WINTER WHEAT March 2022 | 8.0500 | -0.1075 | 8.1400 | 8.1600 | 7.9600 |
| HARD RED WINTER WHEAT May 2022 | 8.0775 | -0.1100 | 8.1575 | 8.1825 | 7.9950 |
| HARD RED WINTER WHEAT July 2022 | 8.0600 | -0.1150 | 8.1700 | 8.1700 | 7.9825 |
| HARD RED WINTER WHEAT September 2022 | 8.0750 | -0.1275 | 8.1550 | 8.1875 | 8.0300 |
| WHEAT March 2022 | 7.8350 | -0.1150 | 7.9425 | 7.9550 | 7.7400 |
| WHEAT May 2022 | 7.8900 | -0.1175 | 8.0100 | 8.0100 | 7.8000 |
| WHEAT July 2022 | 7.8050 | -0.1025 | 7.8975 | 7.9025 | 7.7200 |
| WHEAT September 2022 | 7.8050 | -0.1050 | 7.8850 | 7.9000 | 7.7300 |
| HARD RED SPRING WHEAT March 2022 | 9.1200 | -0.0425 | 9.1650 | 9.2000 | 9.0300 |
| HARD RED SPRING WHEAT May 2022 | 9.0825 | -0.0550 | 9.1425 | 9.1775 | 9.0075 |
| HARD RED SPRING WHEAT July 2022 | 9.0525 | -0.0500 | 9.1100 | 9.1200 | 8.9800 |
| HARD RED SPRING WHEAT September 2022 | 8.8650 | -0.0700 | 8.9375 | 8.9375 | 8.8050 |
| SOYBEANS March 2022 | 14.5300 | 0.1300 | 14.3600 | 14.5650 | 14.2850 |
| SOYBEANS May 2022 | 14.5825 | 0.1125 | 14.4200 | 14.6175 | 14.3550 |
| SOYBEANS July 2022 | 14.5775 | 0.0725 | 14.4525 | 14.6100 | 14.3900 |
| SOYBEANS August 2022 | 14.3150 | 0.0750 | 14.1725 | 14.3450 | 14.1425 |
| CORN March 2022 | 6.2750 | 0.0050 | 6.2500 | 6.2775 | 6.2125 |
| CORN May 2022 | 6.2475 | -0.0025 | 6.2350 | 6.2575 | 6.1975 |
| CORN July 2022 | 6.1800 | -0.0125 | 6.1775 | 6.1925 | 6.1350 |
| CORN September 2022 | 5.8125 | -0.0400 | 5.8425 | 5.8575 | 5.7975 |
Grain Market Commentary
DTN reports:
Several corn and soybean contracts, both old crop and new , closed up their daily limits Wednesday after USDA estimated lower-than-expected corn and soybean plantings for 2021. All three U.S. wheats were also higher but got no direct help from Wednesday's USDA reports.
Wheat:
July KC wheat closed up 17 cents at $5.81 3/4, a sudden bullish change in direction thanks to corn's influence. USDA estimated all-wheat plantings at 46.4 million acres in 2021, up from 44.3 million acres a year ago and a little more than expected. Winter wheat acres were estimated at 33.1 million, more than expected. Other spring wheat acres were estimated at 11.7 million, close to expectations. Durum came in at 1.5 million acres, slightly less than expected. USDA also said 1.314 bb of wheat were on hand March 1, more than the 1.272 bb Dow Jones' survey expected, but still the lowest in six years. Even so, this likely means a small increase will be coming in USDA's U.S. ending stocks estimate in next week's WASDE report. Wheat prices have been sliding lower since late February and despite Wednesday's higher close, it is still difficult to find a bullish argument. The bottom line for wheat prices is that crop conditions are off to good start early in 2021 so traders are bracing for another year of world record production. The season is still young and there are dry weather concerns in the northwestern U.S. Plains and the western Canadian Prairie. Technically, the trends remain down for July contracts of all three U.S. wheats. DTN's National HRW Index closed at $5.34 Tuesday, its lowest close in over three months. DTN's National SRW Index closed at $5.82, also its lowest close in over three months.
Corn:
May corn closed up its 25-cent daily limit at $5.64 1/4 Wednesday, sparked higher by lower-than-expected USDA estimates of plantings and March 1 corn stocks. Several other corn contracts, including December, were also up their 25-cent limits. After looking over its survey of approximately 78,900 farmers from early March, USDA estimated 91.14 million acres of corn will be planted in 2021, lower than the lowest estimate in Dow Jones pre-report survey of analysts. Modest reductions were seen in five of last year's top producing corn states. The largest increase was 650,000 acres in South Dakota, last year's home to 1.7 million prevented planting acres. USDA also said March 1 corn stocks totaled 7.701 billion bushels (bb), lower than Dow Jones' average estimate of 7.778 bb and the lowest March 1 total in seven years. Corn use of 8.43 bb in the first half of 2020-21 was a new record high by a slim margin over the previous record set four years ago. Earlier Wednesday, the U.S. Energy Department said last week's ethanol production increased from 922,000 barrels per day (bpd) to 965,000 bpd, still roughly 11% below pre-pandemic levels. U.S. ethanol inventory dropped from 21.8 million barrels to 21.1 million barrels, the lowest since November and a good sign of active demand. From a technical view, Wednesday's bullish boost put prices back on an upward path for May corn. DTN's National Corn Index closed at $5.29 Tuesday evening, still near its seven-year high and 10 cents below the May contract. Other commodities are mixed. According to Marketwatch.com, the private firm ADP said U.S. payrolls increased by 517,000 in March, roughly as expected. It was also the largest monthly gain in six months and helps counter concerns about another increase in coronavirus cases.
Links to Market Analysis
Ag Center – Cattle Report
Livestock Marketing Information Center
Kansas State – AgManager.info
North Dakota State – Livestock Economics
University of Missouri – Farm Marketing
CattleFax
Grain Market News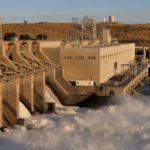 A coalition of agricultural and commercial organizations recently responded with serious concerns to a controversial dam breaching proposal that would tear out four dams...
Read More